Our cruise ship is called the Discovery. It holds 24 passengers in 12 rooms plus a crew of about 12. 
The rooms are on the bottom deck. Our room is very pleasant. It is large enough for our needs. You can see a queen size bed, a small closet, a small desk with a stool. Suitcases fit under the bed. You can see we are drying some laundry. The shades pull down and are make the room very dark. We have been sleeping with them up if the exterior is dark to enjoy the view.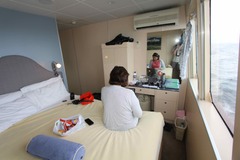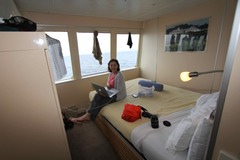 Essentially, the room had everything one would need. There is AC power using US plugs and 100V so no adapters are required for us.
On the middle deck is a dining room, lounge, bar, and the kitchen. It is a pleasant space where people gather for games, talk, eating, and just watching our progress.